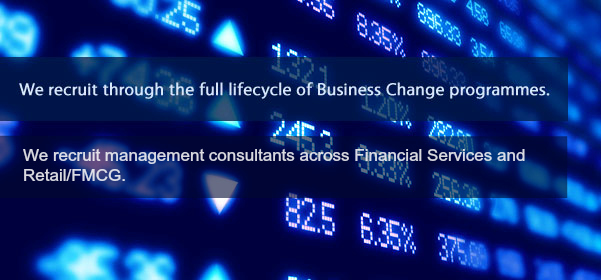 In 2011, a turbulent year for Global Financial markets, we saw the demand for Change and Transformation resources across Financial Services increase significantly, yet with leading players across the industry struggling to find the right talent. With increasing regulation, uncertain economic indicators and more limited resources at their disposal, top financial services businesses continue to find recruitment for these niche sets of skills – from strategy and customer proposition through to implementation and delivery – an uphill task.
Currently, Tassell Consulting works with a number of management consulting firms and banks across the city, helping them find niche sets of skills to plug these gaps.
As professionals, we view ourselves as 'consultants,' able to identify and assess both consulting and 'change' skills, providing you with a unique recruitment service.
Our goal is to be the recruitment partner of choice to our clients, maintaining three common principals of honesty, integrity and credibility through everything we do.
Find out more about our services here.